Posted on Friday, July 10th, 2020 at 5:36 pm
The Shoalhaven River, NSW Australia
In this Covid-19 era it is much more difficult to travel. In times past we didn't really think about not being able to travel … if we wanted to, we just did it. Having recently been contacted after many years by old friends Ciaran and Cora (much to my delight!) I thought some reminiscing might be in order.
Back in 1978, my then partner Christina and I were living in Sydney for a while, as were our good friends Ciaran and Cora. We had met Ciaran and Cora in Bukittinggi in Sumatra on our way to Australia and when they turned up in Sydney we became firm friends. Weekends were often spent camping together up in the Blue Mountains or further south in the Morton National Park.
On one such trip, as we marvelled at the Shoalhaven river gorge from high up on one of the many lookouts, we hatched a plan to take two rubber ducks (inflatable boats) and float gently down the river to the sea at Nowra. Looking down at the river, it looked fairly humble … large pools connected with gentle rapids. Two weeks should do it we thought and so the planning began.
I apologise in advance for the relatively poor quality of the images. They were taken on slide film and then scanned, but it's the content that counts so I hope you will all bear with me. Most of these images were taken by me, but on occasion other fingers pushed the button.
The first issue that becomes apparent is actually getting a vehicle with all our supplies close enough to the river without actually carrying everything down the steep sides of the gorge. The nearest point upriver we could access with a vehicle was the river crossing on the Oallen Road. We didn't give much thought to the state of the river between here and the river seen from the viewpoint. Assumptions are a funny thing! Friends Greg and Avril, who live in Nowra, drive us here in our Landrover.
The river now lies in front of us so time to inflate the rubber ducks and pack up ready to go.
You can tell at this point that we are not at all well prepared to take on one of the wild rivers of Australia. Funny, there seems to be no sign of waterproof containers – no, nothing like that. Oh what were we thinking!
Water moving down a river is amazingly powerful as we are to shortly find out. We get in our respective boats and push out into the current and our yellow steed floats across towards the far bank and some overhanging trees. I naively imagine that we will simply bounce off the overhanging branch we are rapidly approaching.
But no! The current, so recently a friend, shows it's teeth and pushes the front of the boat firmly under the branch and we immediately start taking on water. This is not supposed to happen and after some thrashing about we manage to get back to shore and survey the damage.
Our respect for the power of the river increases ten fold in that five minutes.
And so our journey begins. We manage to make it around a few bends before making our first camp on a sandbank by the river on a fairly placid stretch.
With the journey ahead of us we make our way downstream until the first obstacle arrives.
There are three possible way of managing these small interruptions in the flow of the river. First is to simply hang on whilst sitting on the boat and letting things take their course. Interesting that this option is not available very often.
Secondly one can leave everything in the boat and float it through the rapid and hang on to the rope whilst hopping from rock to rock on the bank. An alternative to this method is to go into the water behind the boat and hope that you can keep hold of it when up to your waist in white water.
The third and most common method is to unload everything, carry it around the obstacle together with the boats and reload everything downstream of the rapid/waterfall/fearful drop. It soon becomes clear that this stretch of the river wasn't anything like the bit we had gazed down upon from the lookout.
Hey ho … too late now. Alas, going back up river is not an option.
After a day struggling around so many rapids and waterfalls, the camps were great. Cooking over the fire and listening to Ciaran playing his guitar and singing songs of home.
We seem to be getting deeper and deeper into the gorge and as the days go on the carry arounds need more effort.
Progress down this gorge is really slow. It has become obvious that we are not going to make Nowra in the original two week estimate. Indeed, we are still nowhere near the part of the Shoalhaven gorge that we are familiar with. In this part of the gorge, the sides get steeper and the rocks get bigger. There is no turning back now!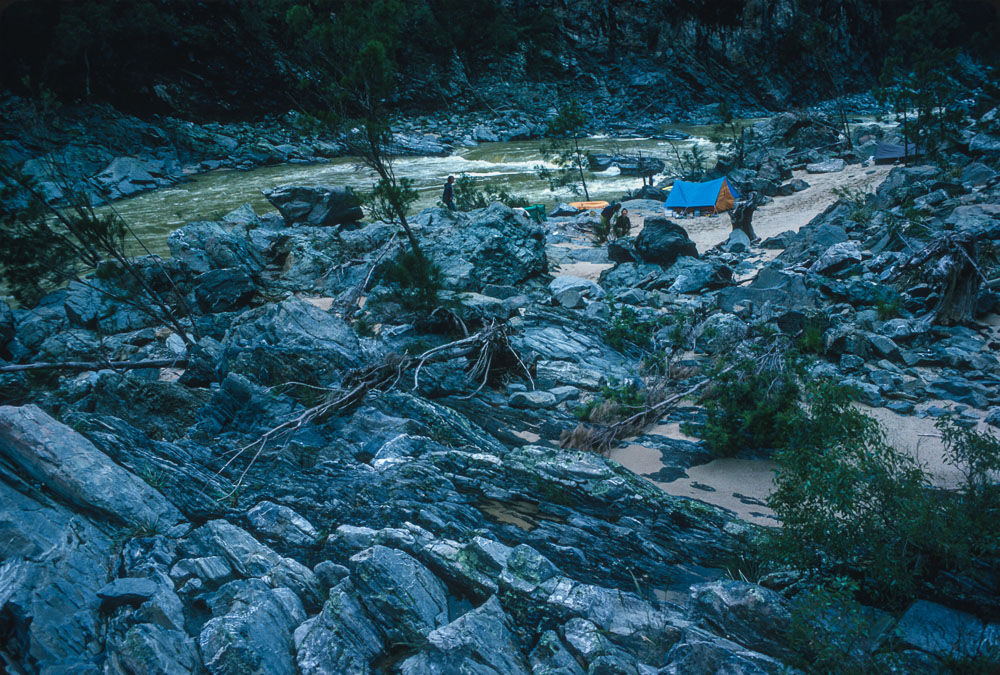 In the meantime, Greg has been wondering where we have got to. We should have been down at Nowra by now. Luckily, he works at the Navel base and manages to persuade one of the helicopter pilots to take a run up the gorge to see where we have got to. After a couple of weeks with the sounds of the river, the roar of a helicopter echos around the gorge and then, much to our surprise, descends. From it's bowels, Greg appears on the end of a rope.
He has come primarily to make sure we are ok, since we have been completely out of touch. (No such thing as a mobile phone back in the days of primitive technology). He also tells us that not far down the gorge, there is an opportunity to climb out at a place where there is a road within reach, and the sides of the gorge are not too steep.
After a quick consultation, we decided that this has to happen and Greg agrees to bring the landrover round to this road to collect us.
And so our little journey ends. We later find out from one of the kayaking clubs that the stretch of river we have traversed is officially designated as unnavigable. It's a good job we didn't know that at the start. What were we thinking!
Thank you Christina, Ciaran, Cora, Greg and Avril for making this adventure possible. I should also say that memories dredged from forty two years ago are not always as accurate as they might be, and if my fellow travellers have different memories, I apologise for any ommisions.
Enjoy
Alan
PS. If you would like to check out the full set of images from this trip go to Shoalhaven River 1978 on my website at alandoddsphotography.com
---