Posted on Thursday, December 24th, 2015 at 3:13 pm
Thursday, December 24th. It's Christmas eve on a cloudy and rather humid day in Noosa. Contemplating the year just past, we undertook two journeys, but the energy for a post on the subject didn't quite manifest at the time. Maybe I thought that the trips weren't quite as grand as touring through Europe or India, or maybe I was just too slack! Anyway, a happy festive season to everyone and may all you wish for be yours in 2016.
In March, we heard that Tarchin Herne (visit his excellent web site at greendharmatreasury.org) was to give a retreat at friends Bill and Kathryn's home in Shoreham on the Mornington Peninsula to the south of Melbourne. We persuade Pippa and Tara to book too, and then decide to make a trip of it and drive Cubby down the east coast of New South Wales and round the bottom corner into Victoria.
The route southwards is, by now, fairly familiar to us. Past the Gold Coast, on to Byron Bay, stops in Yamba, Newcastle and Gosford then through the traffic of Sydney until we find the hidden gem of Coledale Beach. There a small, council run camp ground sits right on the beach just south of Stanwell Park. (Stanwell Park was one of the first places in Australia to develop a spot for hang gliding).
On southwards we pause at Maloneys Beach, across the estuary from Batemans Bay and find an idilic spot to stay, right next to a no camping sign. Well, we aren't camping strictly speaking, are we? It is a beautiful spot on a perfect afternoon.
There are extensive national parts along this coast and our next stop is in the Mimosa Rocks NP with it's spectacular coastal scenery.
On down to Eden, the last town before the Victorian border, and a meeting with some archetypal Australian characters.
Free camping is not so easy to come by in this commercial age. Even some of the "rest areas" have large no camping signs. There is an exception, however in southern Victoria next to a large river … but get there early!
We turn inland and make for the Baw Baw NP to find some of the famous East Gippsland rain forest, and find it we do. Perhaps some of the most stunning rainforest that I have experienced unfolds before us after a long and winding drive along a dirt road up into the cold mountains.
We have arranged with Pippa and Tara for them to hire a small car, and then to swap vehicles for the retreat so that they can camp in the Beach reserve in Shoreham which is a short walk from Bill and Kathryn's. In the meantime, we have found an  apartment right on the shores of Port Philip Bay in Rye and only a 20 minute drive for the teaching of the retreat. The arrangement works well and when the week of retreat is done we have another week to spend some time with Bill and Kathryn while Pippa and Tara return to Melbourne. The retreat is excellent and Tarchin's teaching inspiring as always.
And so our trip comes to a close. A quick visit to Max and Nickie on the way back through Melbourne and up the inland route back to our home in Queensland after our month away.
Lastly, here we are at Coledale Bay … just so you remember who we are … and I'll leave you with a few more images just to finish off.
There was another trip in 2015, so will there be a part 2? … who knows! May you all be very well indeed.
Alan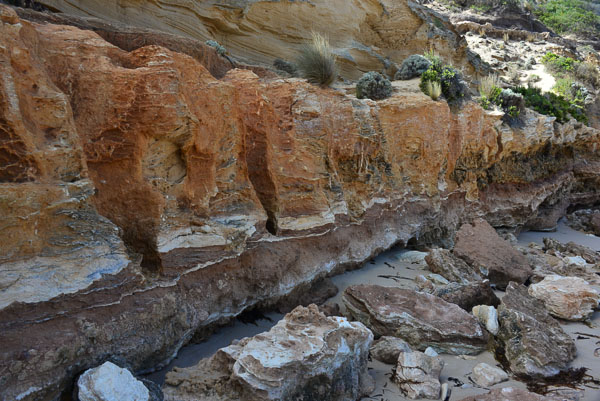 ---
10 responses to "2015 – Where did it go? Part 1"