Posted on Wednesday, May 18th, 2016 at 4:38 am
We now turn towards northern Europe for the next part of this journey. It does feel like a journey and the ocean has been a constant companion. We are learning a lot more about ports and the whole business of approaching the land from the sea.
Cherbourg, France
Our first port of call is Cherbourg on the coast of Normandy. The sun is still with us as we walk towards the old town past the flotillas of boats in the inner harbour.
We walk around the the old part of town, visiting a church, a coffee shop and patisserie in that order before making our way back to the ship for lunch. Cherbourg is a focus for the vehicle ferries that ply their way across the channel moving people from mainland Europe to the British Isles.
Dover, England
We have arranged to meet Jacqui's sister Mary and her partner Brian in Dover. They have kindly offered to drive down for the day and after some confusion as to where we are to meet, success is followed first by a visit to the compulsory coffee shop followed by a pub overlooking the marina for a long and chatty lunch. It is an opportunity to catch up on the goings on of family and to personally congratulate them on their plans to marry later in the year. Sadly we will not be there for that occasion which I am sure will be quite a celebration.
The details of Dover itself disappear as we catch up on the past year or so. It is great to see them looking so happy with their lives. It also seems that we brought the sunshine with us … it has been raining in the South of England up until now. Long may it continue!
Copenhagen, Denmark
Now we are turning towards the Baltic for the last circuit of our journey. When we originally booked the cruise from Havana to Germany, we were given the opportunity to add an eleven night circuit of the Baltic onto the end. Why not, we thought and we are nearing the end of the first part and the beginning of the second.
We will visit Copenhagen twice, once on our way to Warnemunde in Germany and again at the end of the Baltic circuit. For this first visit we have the last of our free tours, which will give us a quick trip around the sights of Copenhagen and end with a visit to the famed Tovoli Amusement park, which seems to get everybody's juices going. We will see!
Copenhagen has a good feel but is extremely busy everywhere we stop. It is a real tourist mecca even this early in the season. Our tour, along with every other person in the city, it seems, stops to see the little mermaid sitting quietly on her water lapped stone at the edge of the harbour.
Tivoli Gardens, in the middle of the city, is a famous amusement park (one of the biggest we are told by our proud tour guide). We hadn't actually heard of it ourselves until daughter Pippa said it was the place to go. I guess the difference between us and her is age, and so we see the gardens through slightly different eyes. Great if you are young with a pocket full of money, or a cashed up credit card, but for us it is an interesting place to walk around but perhaps not more than that. We actually wanted to go out and look beyond the fence, but we couldn't do that without paying to get back in to meet our guide at the end of our allotted hour.
Warnemunde, Germany
No we hadn't heard of it either. It is the end point of the first part and the beginning and end of the second part. At the end of the cruise we had been promised a transfer to Hamburg to catch our flight home, but that option seems to have been a blue sky option and hasn't materialised.
It turns out that Warnemunde is a german seaside town which some cruise ships use as a turnaround point. It must be cheaper for them here because you wouldn't choose it yourself being a two to three hour journey to the airport in Hamburg. Mmmmm.
After a walk around the town I drop Jacqui off at the ship and set out to discover how we are to get to Hamburg. I ask at the tourist office about buses, but they look at me blankly and suggest I try the train ticket office. Between the ship and the above pretty canal is a trap for the unwary suitcase touting traveller wanting to go from the town to the ship. This comes in the shape of a narrow tunnel under the railway line with steep stone steps at either end. I watch as people struggle through this obstacle course with their cases and decide I would not like to do it myself. Unfortunately, the train station and any possible bus station required this manoever to succeed. Things are not looking good.
A further enquiry at the railway ticket office brings more bad news. To go from here to the airport in Hamburg requires two changes of train. I think of our cases and give up any idea of taking this option. Hey ho … what to do?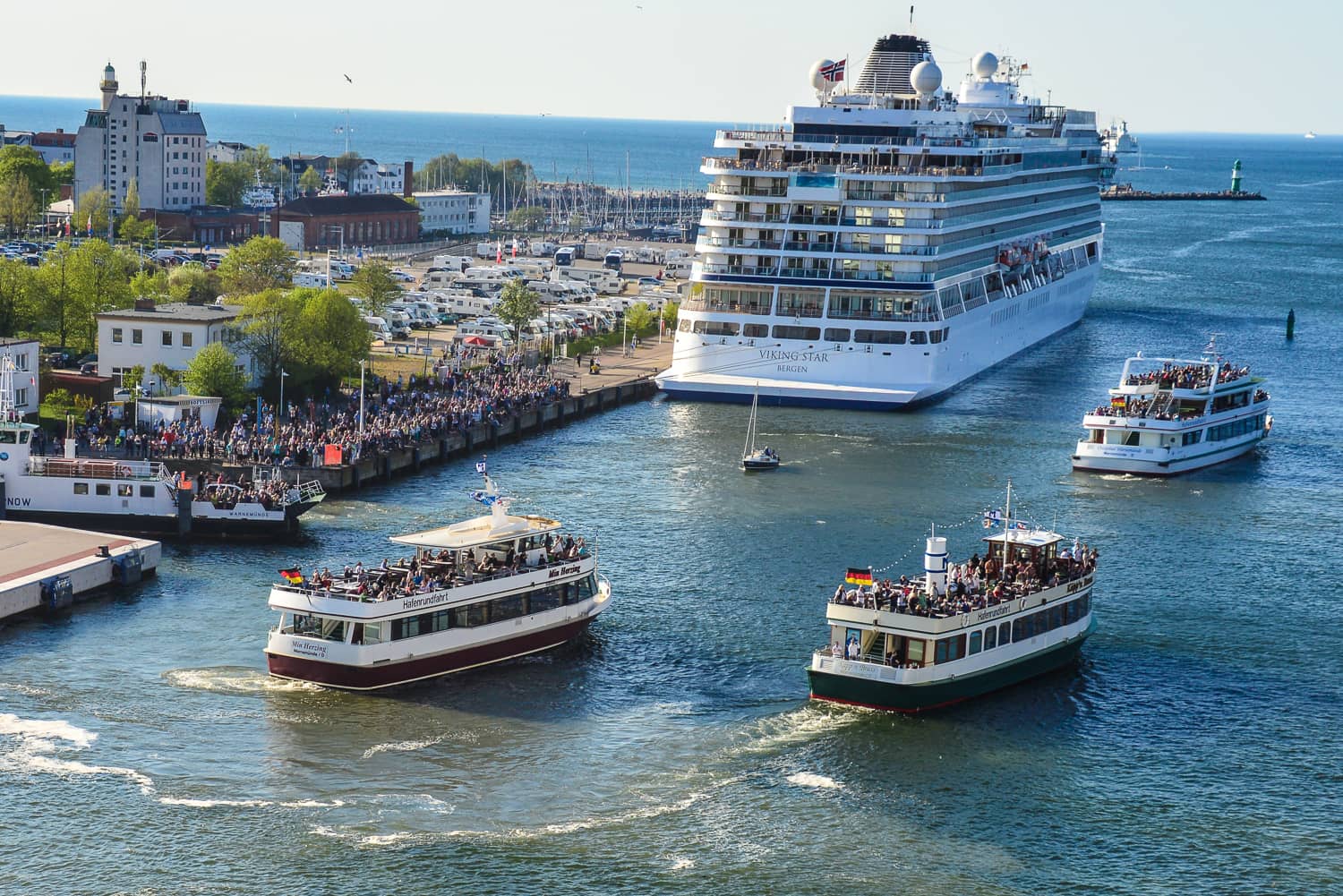 Visby, Sweden
No … we have never heard of Visby either. Visby is on an island in the Baltic and is part of Sweden. It is a tender port, which we know will mean lots of queueing to get both off and back onto the ship. There never seems to be enough tenders to go around.
The day is warm and sunny once again. We are beginning to think this is how the weather is in this part of the world, and that maybe childhood memories of grey skies and cold winds are in our imagination. Once ashore we walk into town amid the spring green trees and the sound of birdsong. We stroll through quiet cobbled streets into a picture postcard town.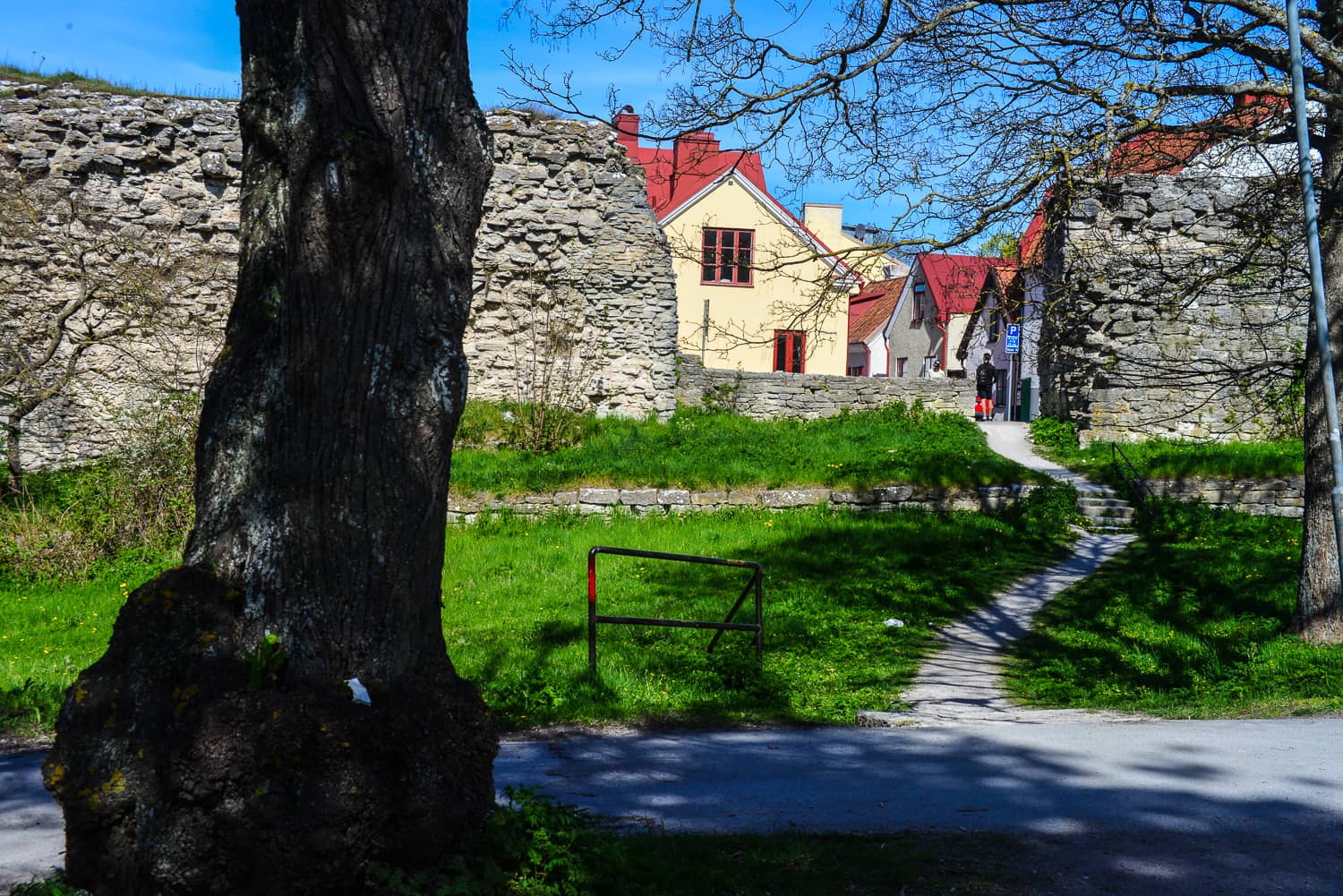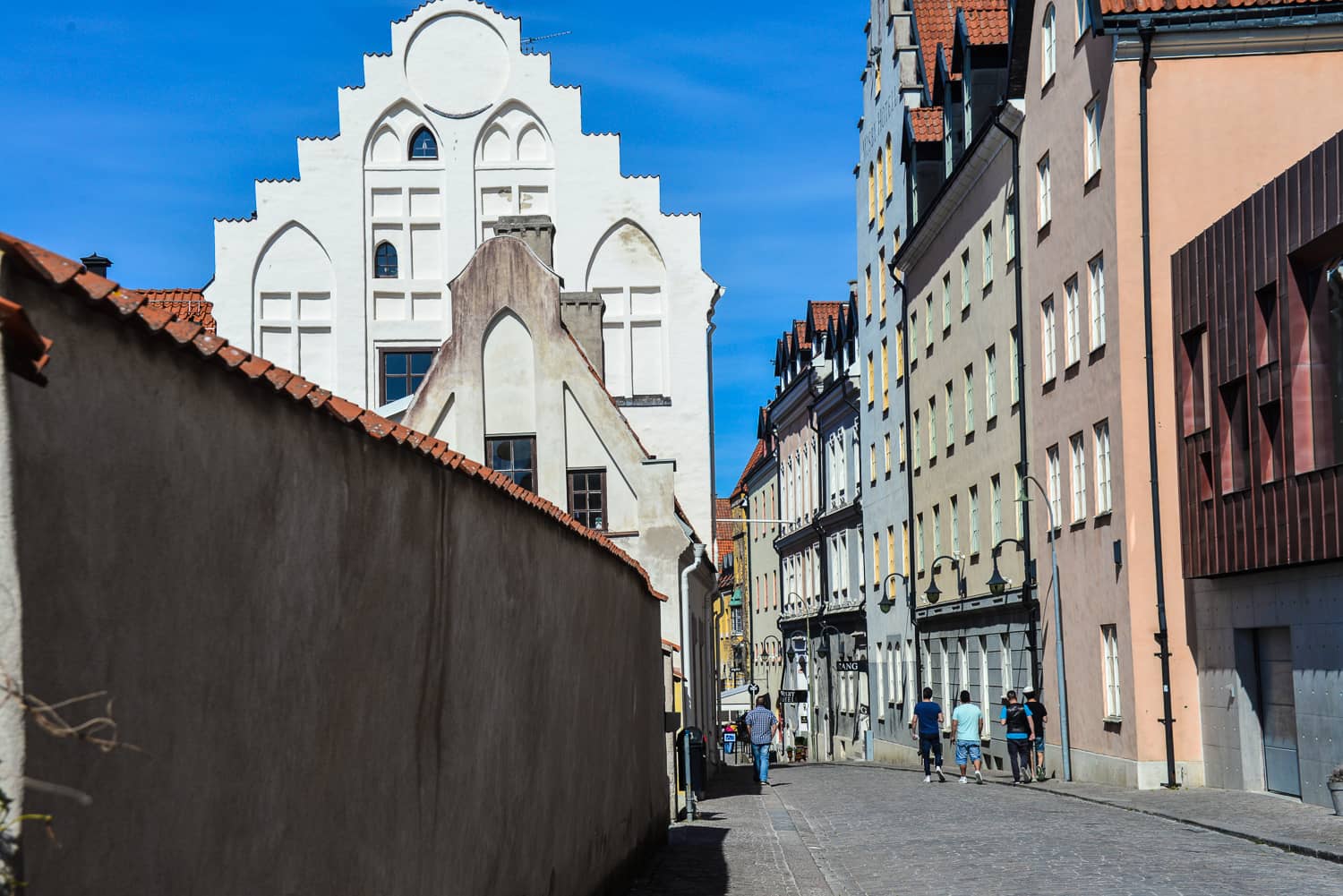 Klaipeda, Lithuania
Another place we have never heard of. We are now entering those countries which were controlled by the Soviet Union before the iron curtin collapsed and we are looking forward to seeing how they are going. First in line is the main port of Lithuania, Klaipeda. Still very much in the development phase of it's tourist industry we are greeted on the dockside by a traditional folkband who sing and play us ashore.
The 'cruise terminal' is a small hut where they hand out maps. We walk past boat repair yards into town. The first thing we notice is the street art … always a good sign.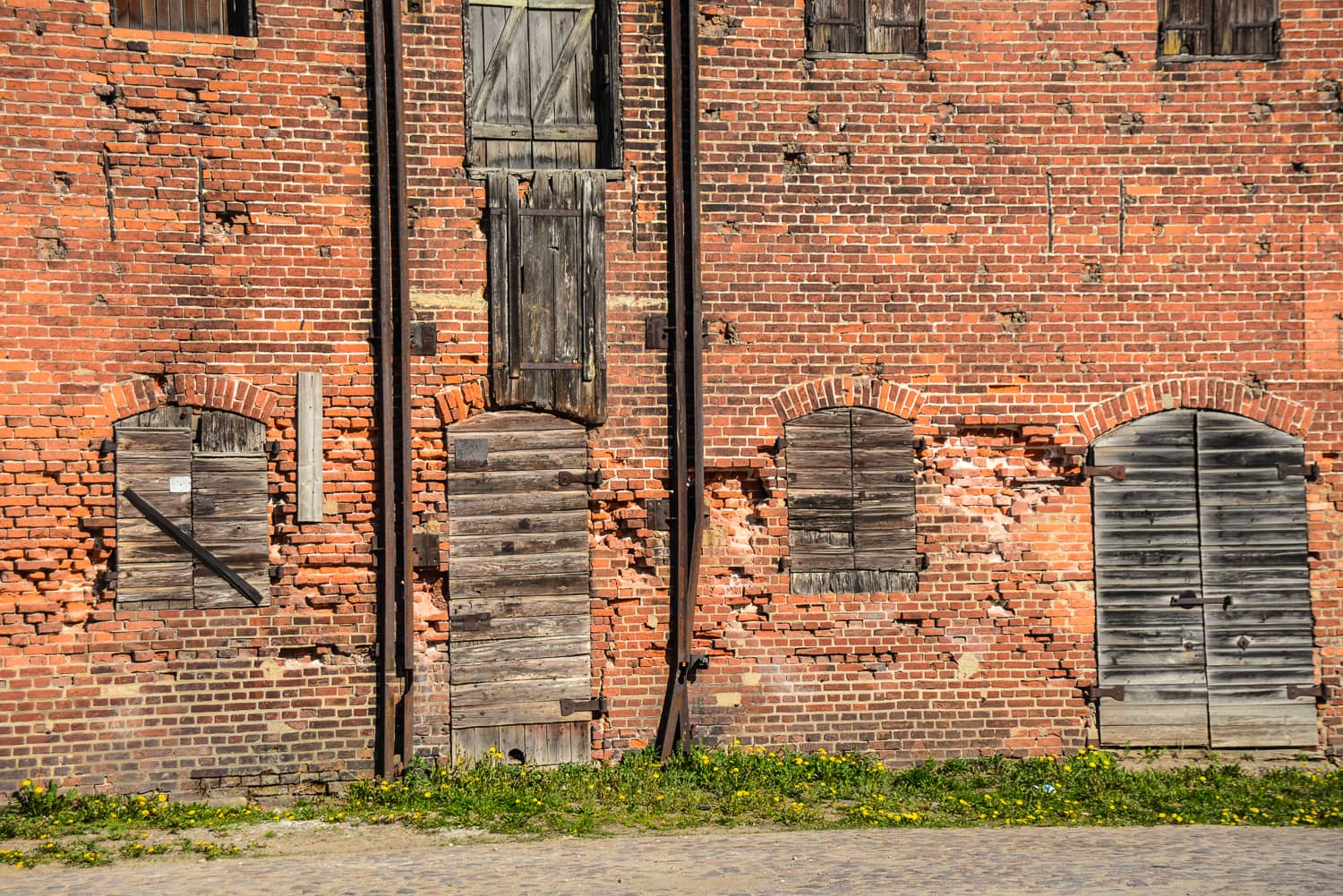 Then into the town and a large cobbled square, with a craft market in full swing. No clothes from thailand or india here.
It's all strictly local produce with several stall holders actually producing the goods at their stalls; a potter with wheel spinning; a wood turner with a foot powered lathe; a man shaping wooden boats. Everything here is of an incredibly high quality … such a joy to see such art and craft … it reminds us of the early days of the Denmark craft market where we plied our wares of pots and baskets so many years ago in the days before it got over commercial.
We really enjoy our day in Klaipeda!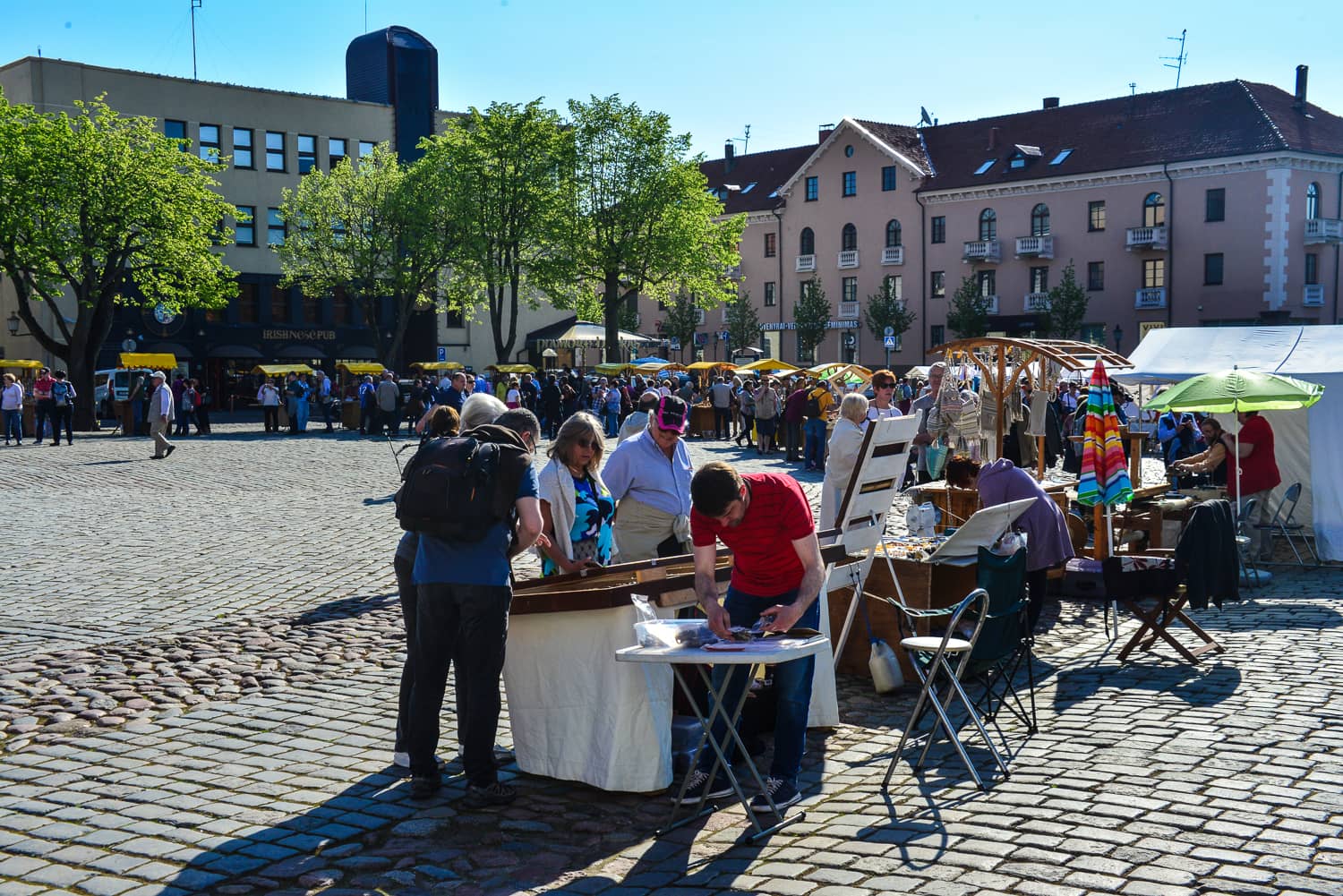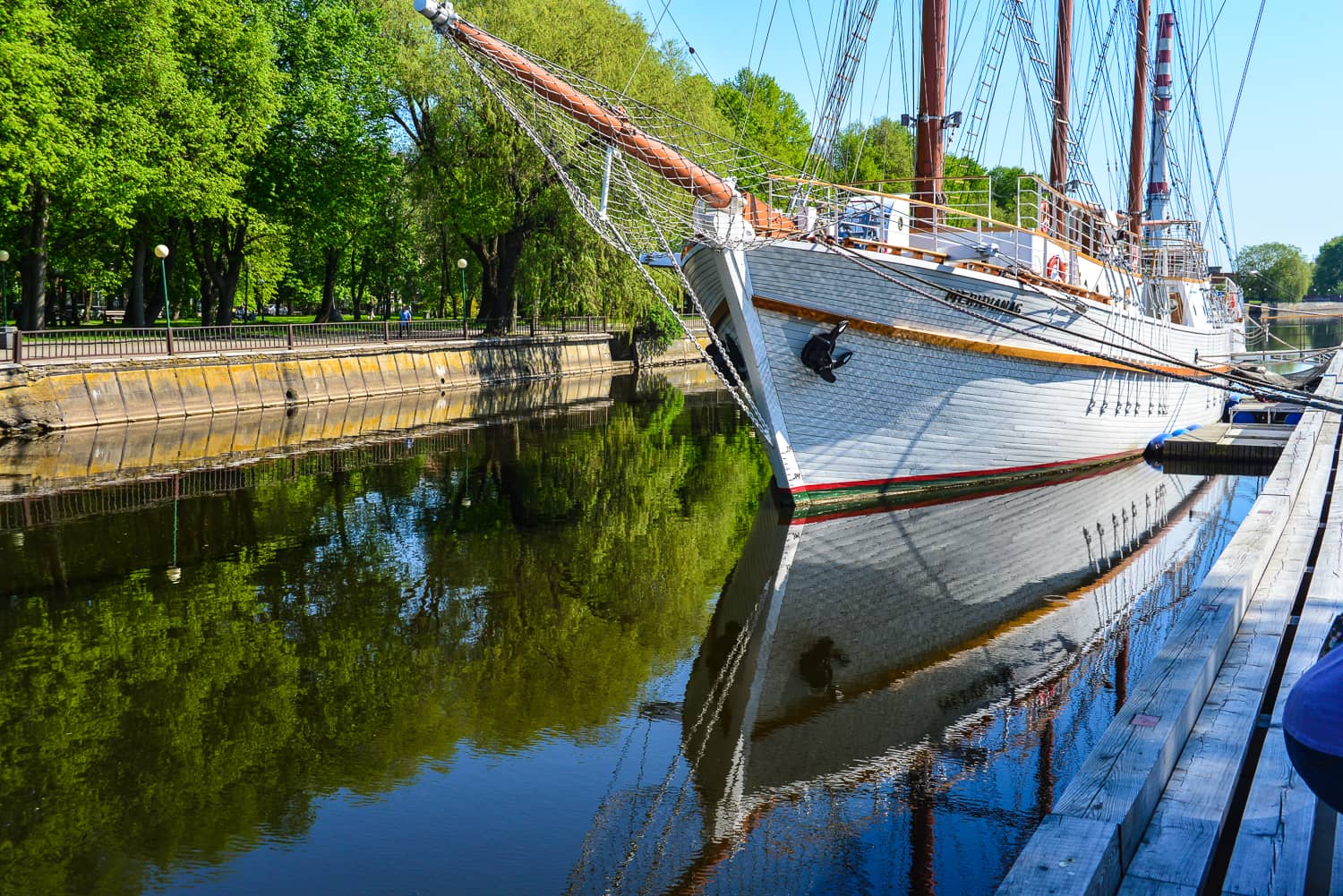 Riga, Latvia
Another day, another baltic state … they are coming thick and fast now and the towns are getting bigger as we go. Today we are in Latvia and are to visit Latvias main town of Riga. It is much bigger than Klaipeda, a fact that is obvious even as we dock. This feels like a modern city complete with a morning rush hour.
As we walk into town it becomes clear that this is a much more substantial settlement and the old part of the city is extensive and well preserved/restored.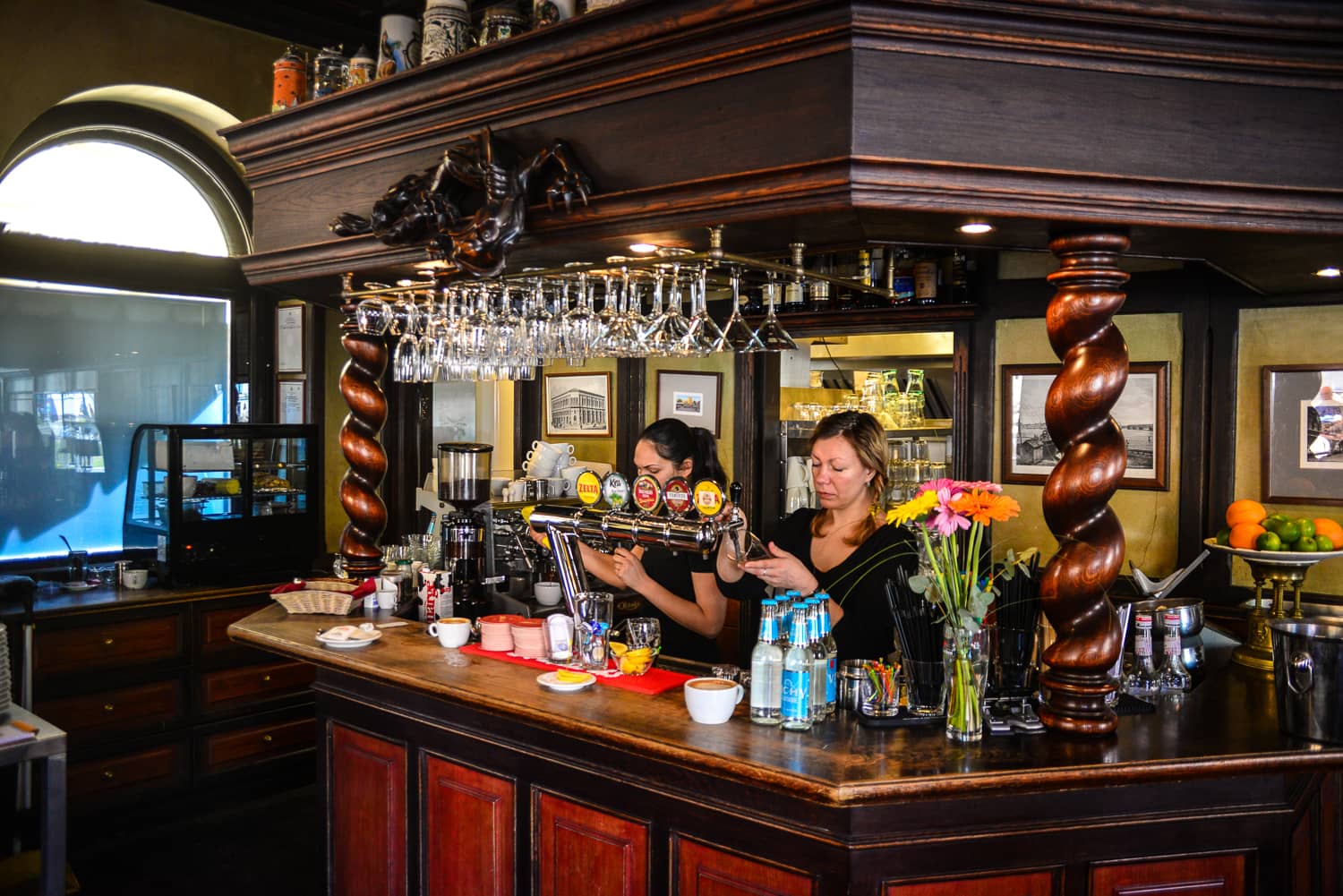 We leave the old part of the city and walk through the park which runs either side of a canal. It is beautiful. Full of flower beds and bird song among the trees. A fitting way to end our day.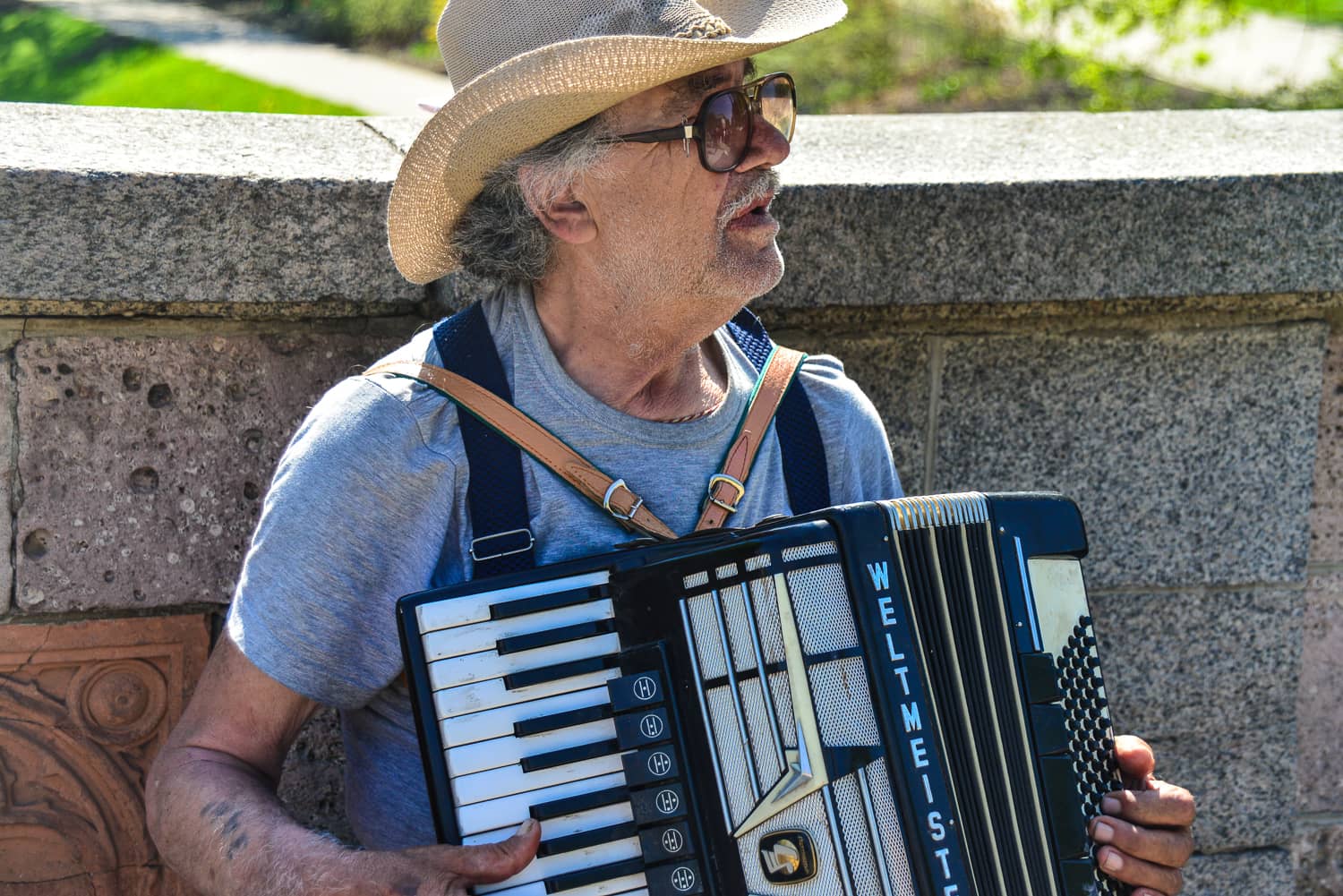 Tallinn, Estonia
Out last port of call before Russia is Tallinn in Estonia with it's fabled walled city. We quickly realise that we are back on the main tourist trail as we dock beside two other cruise ships. We take the short walk into town, through the old city walls and into a very well preserved medieval city. It is full of tourists like us, strolling around the narrow streets and wandering through the markets.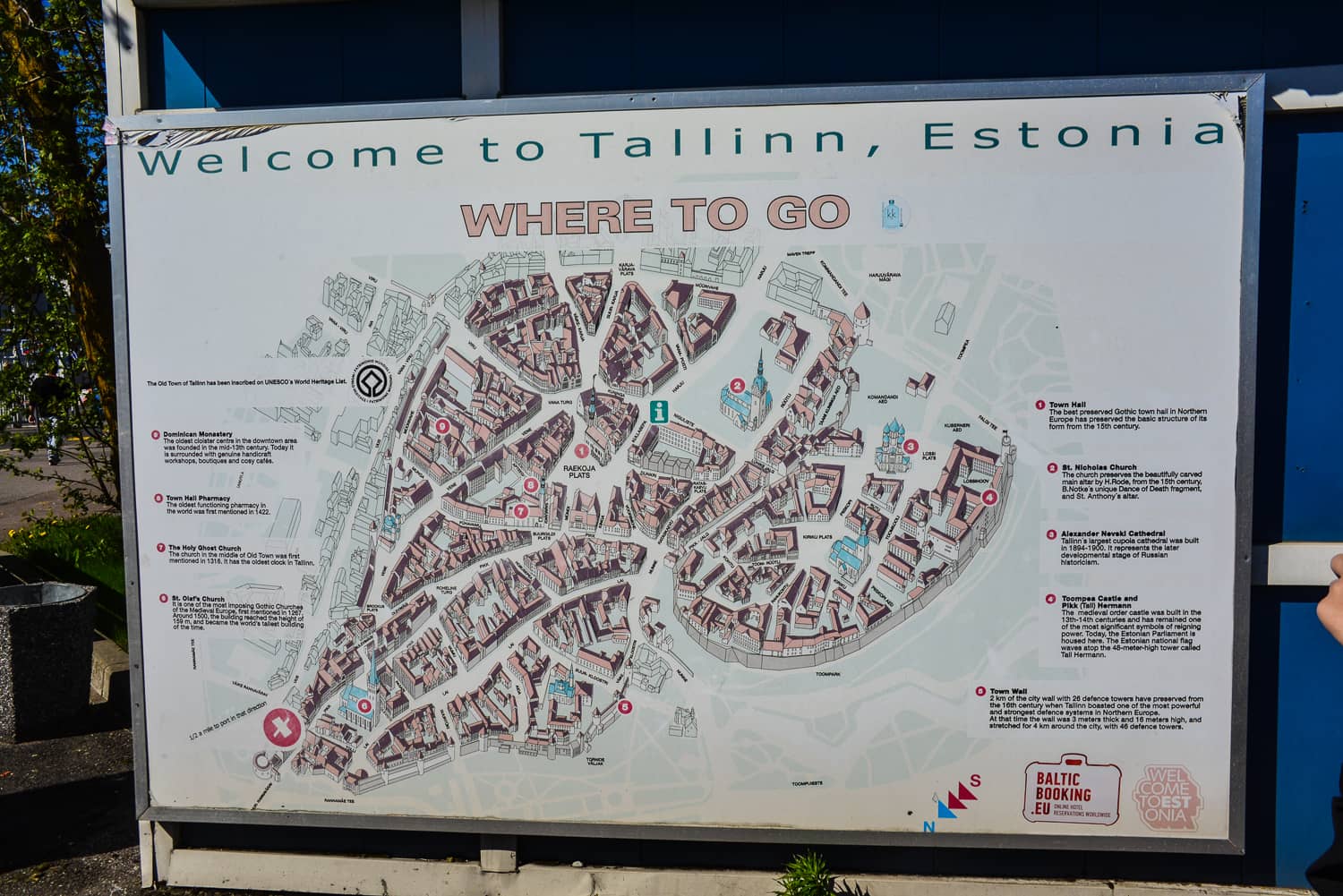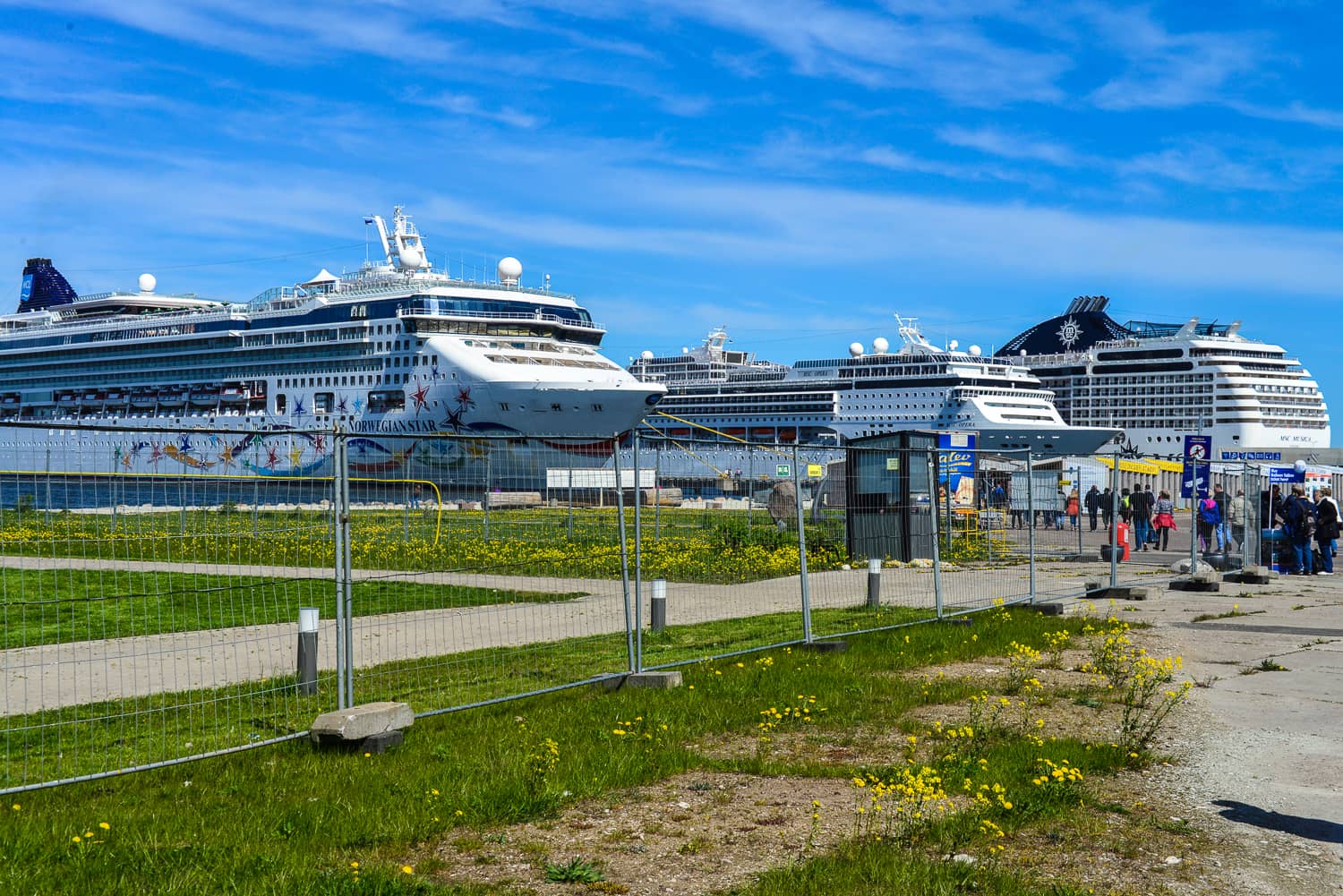 It's time to leave Tallinn and go onto the main attraction on this Baltic circuit, St Petersburg. But more of that soon.
Enjoy 🙂
Alan.
---