Posted on Friday, March 11th, 2016 at 10:35 am
When Tara told us that she was booked for two shows in Wellington as part to the Festival of NZ, and that Pippa would be there too, what could we say but "Can we come?". And so here we are in Kapiti, some 50km north of Wellington staying in a lovely house just five minutes walk to the ocean on the west coast of the North Island. We have been lucky enough to arrange a house swap with Rob and Eileen (thanks you two) which has allowed us to be near the city without actually having to be in the middle of things.
The first of Tara's two shows is a piece by Douglas Wright, "The Kiss Inside". Douglas hails from NZ but having performed in Europe and New York he returned to NZ and formed his own dance company. You can catch a glimpse of it here – Tara is the middle of the three female dancers. Our reaction after the show is "Pity we can't see that again!". It is the last night and we briefly meet an adrenalin soaked, but satisfied Tara after the show before returning to Kapiti. Pippa has taken some amazing images of this show the last time it was performed. You can see them here
*********
The beach here is soooo different to the beaches we are used to in Queensland. The west coast and black sand stretching off into the distance are such a contrast.
And then there's the weather … you know, four seasons in a day and all that. The weather forecast is given in layers here. The idyllic scene above can easily give way to the three layer day with 100k/h winds as shown below.
Now I have a little quiz for you all!
Geography 101: Q1. On the west coast of New Zealand from which direction does the prevailing wind blow?
Geography 101: Q2. Are Norfolk pines affected by the prevailing wind?
Seriously though … it is a pretty spectacular beach but it does need some pretty serious defences against the ever rising sea level. The logs in this pic are very big and have simply been tossed up at high tide.
There are houses all along this beach … it must be a popular commuter spot for those who work in Wellington.
We take a day to check out the country to the east and try and get into the hills that run down the middle of the North Island like a spine. Up a very wiggley road and we can look back down to the coast.
Then off through the Hutt valley; Lower Hutt and then Upper Hutt and then up to the Rumutaka Crossing. We take these passes so much for granted these days, whizzing up them on smooth roads, but back during WW1, thousands of soldiers route marched across this pass.
Tonight we go to Tara's second show, "The Complexity of Belonging". It will be the first night of a five show run during the festival. This show has already run in Melbourne and has toured through Europe last year. You can catch a glimpse here. Really looking forward to it … don't go to first nights very often … might even have to dress up!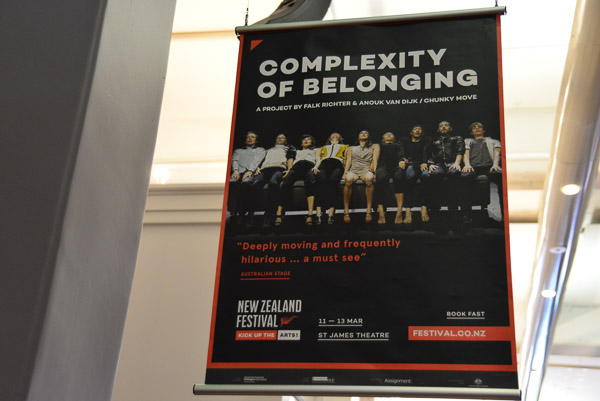 Tomorrow we are off to Aukland and the second part of our little journey … but more of that later 🙂
Sitting on the deck of this lovely house, we can't see the sea … instead we have to look at flowers. Doh!
Enjoy Alan
---
9 responses to "Now for New Zealand and dancing with Tara"