Posted on Wednesday, March 16th, 2016 at 10:11 am
After our week in Wellington it was time to move on. When we originally booked our trip to Wellington to see Tara, we were to return to Oz at the end of the week. However, we had a rush of blood to the head and decided to go on to Auckland instead.
Firstly though … 'Complexity of Belonging' was absolutely spectacular and if you should ever get a chance to see it, do take it. Tara was amazing (not that we are biased, of course) and the whole show takes a pot shot at all the idiosyncrasies of modern day Australia as viewed by those coming to live there. Just wonderful!
When we get to Auckland we make an interesting discovery … someone has parked a large boat in the middle of the street.  'How could this be?' we ask ourselves … but there it is. 'What sort of boat?' we ask ourselves. 'Oh goodness, it looks like a Cruise Ship … why don't we get on it'
And so we do … another cruise! 'What is happening to them?' I hear whispered in the background … 'They must be getting old or something!'
We thought a quick trip (only 14 days after all) around the edge of New Zealand would be much more fun than a three hour flight to Brisbane. One of the main attractions is undoubtedly the fact that we get to look at the rugged coastal scenery around Milford Sound is the south west of the south island. We did contemplate undertaking the several day walk, camping in huts to get there, but for some reason dismissed the idea.
It will also give us the chance to catch up with a few friends on the way.
Our first stop is Tauranga, and we have a hire car in order to take a trip down to KatiKati to catch up with Tarchin Hearn and Mary who will be known to many of you already. They live on a two acre section (or block, plot, parcel, lot, acreage,domain depending where you are from) nestled into the hills among the tree ferns, with views across to the ocean. Lunch is mostly fresh veggies from their garden followed by Mary's excellent unsweetened peach pie. What a treat! We are glad to find Tarchin is well following his recent operation. If you don't know Tarchin, you can read more about him here. Definitely worth a look!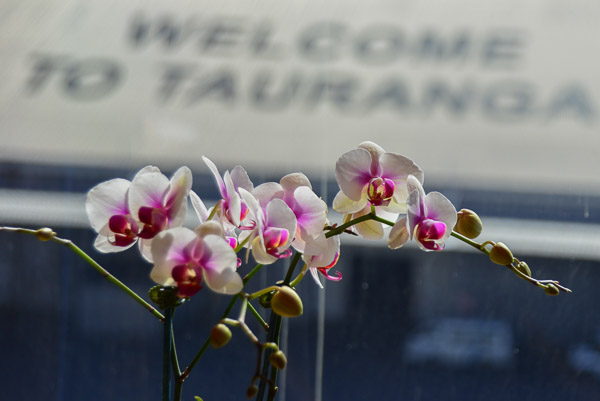 Napier was virtually destroyed in an earthquake back in 1931 and was largely rebuilt in the Art Deco style so popular at the time. This has resulted in one of the most complete collection of Art Deco buildings anywhere in the world. Since none of us cruisers are allowed to walk on the hallowed bitumen of the Port of Napier we are herded onto the shuttle bus into town.
The centre of Napier is small and pleasant, especially if you like shopping, which my beautiful travelling companion does! A strong feeling of cruise ships being targeted by local businesses pervades (all the 'Welcome to the Noordam' notices on chalk boards give it away) and one guesses that these visits must be a quick and painless boost to the local economy of these small towns. It's great to have a descent cup of coffee and watch the world go by … the coffee on the ship is very average and the 'speciality coffee' is even worse.
Meanwhile, returning to the boat, our next stop is in Wellington once more.
The approach to the harbour is very narrow and it is interesting to watch the intricate manoevers needed to bring the ship safely to the dock.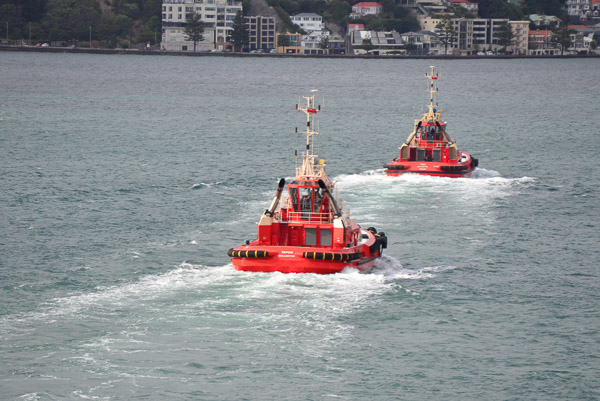 This time we are met by Pippa and Tara who are spending a few days relaxing after the end of Tara's dance season in New Zealand. After a coffee and catch up chatter, we go up to the Botanical Gardens and wander for a while before  descending once more into the city. We decide again that we like Wellington … eating a pizza for lunch in a Cuba Street cafe is just the thing to do.
After a very enjoyable day we return once more to the Noordam.
Life on a ship is governed to some extent by instructions. I love poking into odd corners where you can find some interesting things.There are lots of signs telling you what you can and can't do (mostly can't of course) and would like to share some of these and other odd things with you as I finish this episode.
Enjoy
Alan
---
10 responses to "Auckland and beyond"